Saturday, November 08, 2003
Party Pictures:
I hadn't seen this before, so presumably
many
both of my readers haven't either. It's from the blog-gathering at the Shahel lounge last month, and comes to us courtesy of
Libertarian Samizdata
.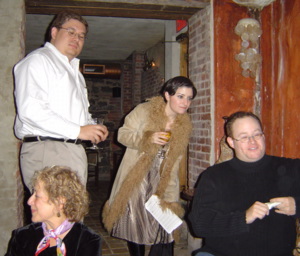 Don't recognize the woman in the foreground. But from left to right, that's
Paul
,
Elizabeth
and
Ken
. I was was there also but was afraid being photographed on the Upper West Side would ruin my reputation.